Unlike other building materials which are usually used in combination with others, this is one of those that works almost alone. As when compared to pitsand and riversand or stones, these need aid of cement to be ready for use. But our gravel for sale is just a great option for backfilling and road or pavement surfacing.
Main uses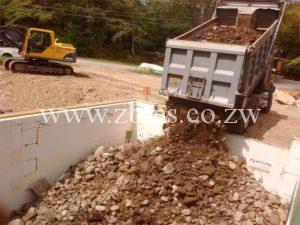 For as far as proper back filling is concerned, gravel is the best option we have for sale. Even when in need of materials for use on road construction there is no other building supply that can guarantee you a proper fill. Its easily compact able using plate compactors or bomags.
Availability 
Its available on daily basis and free deliveries are prompt.
Innumerable quantities available
Can deliver whenever needed, regardless of how bulk.
Never be behind work progress schedule again, see prices, place an order and buy today. We are there to make sure you get it right when you need it.
Call us on 
+263778767374
+263716782260
+2634773360
sales@zbms.co.zw
also see: