GS
Gravel is a great material for use on back filling and roads construction. In any case if you want longlasting structures and roads, it helps serves the purpose perfectly. Uniquely unlike other famous Zimbabwe construction supplies, this does not necessarily need machine processing to be ready for use.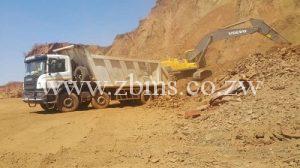 Making
There are various types of gravels used in the Zimbabwe construction industry but we prefer that from hills instead of others. Some are extracted from grounds and some from hills and mountains. In times when big projects are run, most of the gravels extraction is from hills/mountains. It can not be manually extracted using picks and shovels as with top soil and other building materials. As a result earthmoving machines are then put in place to extract the gravel. In effect we work hand in hand with the extractors so as to supply our clients right when they need it.
When you order, our trucks head straight to the source to fetch the gravels, thus you are guaranteed to get the best quality. Gravel does not necessarily need any crushing or machine processing. In the event that there be excessively large rock pieces contained within the load, they can easily be screened during the loading. We supply as many cubics as you need, whatever quantity indicated on your bill of quantities.
Availability
It is available from selected points close to cbd from 8am to 5pm. Hence the trucks travel less than 15km from our truck stops to the sources and then head to delivery site. Thus, deliveries are expected to take less time to reach your sites. Nonetheless we value your time, and make sure we supply on time whenever you need it.
Advantages
Allows great drainage therefore making your structure safe from any rising moisture from the ground foundations to your slab.
Available 7 days of the week
Self compacts
Cheap with free delivery
Main uses
Backfilling after box brickwork
Road surfacing
Pricing
Regardless of where you need it, our prices remain competitive
see current prices per cubic with free transportation or delivery
Order
If you are ordering within the harare, ruwa and chitungwiza areas, delivery usually takes only 2 hours or less to reach you.
Call – Whatsapp
+263778767374 or +263716782260
Email