Truck buying
There is a lot of business to do with ZBMS, besides supply of building materials  and architectural services we also into truck buying for use in our business. Most people tend to ignore their trucks when they grow old or refuse to start, leaving them to rot forever. Nevertheless with us when you think of getting rid of that vehicle, we are a call away to come and pay you cash for that truck.
We buy runners and non runners trucks from anywhere in Zimbabwe. We do not really mind whether the truck is fully licensed or not.
Preferred types of trucks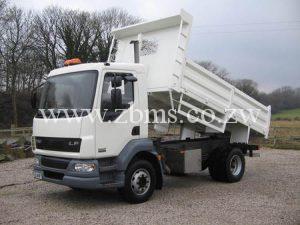 Our most preferred trucks are tipper trucks which we require for shifting building aggregates that include gravel, stones, washed riversand and pitsand from point "A" to "B".  We buy and pay cash for all tipper trucks regardless of being a rigid, tri-axle or super link. Side tippers and rear tippers are all of value to us. All other types are also on the hunt but depending on their condition and license status. Pick up trucks are also of high priority especially if diesel engines. Above all we are more interested in buying old models. Many people have lost hope on these types of trucks, but we need them.
Priority makes
ford, chevrolet, hino, nissan UD, toyota, volvo, daf, gmc, dodge, foden, benz, agrale, daihatsu, honda, isuzu, land rover, mahindra, tata, mazda, mitsubishi, peugeot, vauxhall, volkswagen, freightliner, ram, datsun, dodge, hyundai, international, iveco, jeep, opel.
Truck parts
We also buy truck parts separately. Engines need to be intact if on sale. Body on wheels should be accident  free unless if they are minor damages. In addition we also  buy tipper dishes and truck trailers, tri-axle and super links. Tipper dishes can be independent form body or on body with all  or without connections on.
How to sell your truck to us
Capture a few photos of the truck you want to sell to us
Send it to our whatsapp number with prices
Most importantly indicate the location and address for physical vehicle inspection.
Furthermore we need your name as well as vehicle owner info if its not you.
We take less than 24 hours to respond to messages about trucks buying and selling.
We are ready to pay you for that idle vehicle, get in touch with us today. If you don't need payment in cash form, we offer bricks, pitsand, riversand, 3/4 stones, cement and other building materials in exchange, for more you can see our vehicle exchange for building materials page. We are the best paying truck buyers in Harare, Zimbabwe.