PSS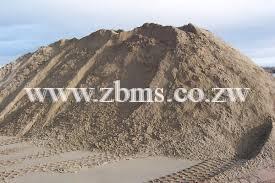 There are very few construction projects where you would not need pitsand. Its vital in masonry works and works as a great bond between bricks when mixed with cement. Looks refined and feels soft to touch especially when full of moisture.
Making
While top soils are needed on other landscaping projects, just about 1m or more below ground level, is where good pit sand is extracted. It formulates naturally and has been there since the beginning. We excavate it clean and due to its natural usability its extracted ready for use.
Uses
In Zimbabwe most of our clients order pitsand for various uses including
Brickwork mortar
Plastering
Splashing
Most noteworthy, make sure no clay and other organic materials are in your sand mixture before using it.
Availability
Much as any other type of sands its available in a lot of designated and authorized areas of extraction. We are capable of delivering as many quantities as you may need on any project. Our supplies cover the whole of Harare and also Ruwa, Chitungwiza and surrounding towns.
Take note its illegal to extract sands from unauthorized areas. (Let's protect our environment)
Combination materials
Brickwork – Bricks, water and cement
Pitsand Prices
Because the majority of people building in Zimbabwe nowadays rely on our building supplies due to our quality services. We choose to be the cheapest supplier so as to give our old and new clients reasons to keep coming back to us for supplies. Our pit sand charges include free delivery to any destination, Harare, Ruwa and Chitungwiza wide.
Pit sand costs $13 per cubic with free delivery
2 cubics load of pit sand cost $26 with free delivery
3 – $39
4 – $52
5 – $65
10 – $130
15 cubic load – $195
20 cubics load – $260
Harare – Ruwa – Chitungwiza etc
Our prices are negotiable depending on quantities.
Order
Our order placement processes are very easy. Just dial or whatsapp
our sales email is sales@zbms.co.zw
We have variety of other great quality building materials in our shop you might like, view our product catalogue