Driveways & Landscaping
Driveway is a private road or path to a property. Almost everyone needs it after acquiring a new property, or after construction of one. You can share it as a group if you are staying within cluster homes, flats etc. Nevertheless if its only you and your family you get to meet the construction costs on the other hand you will also have the advantage of having it personalized to any designs of your choice.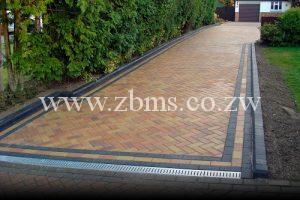 Different from public service roads, driveways can be done according to your specifications. Because of the need to have something unique and beautiful, driveways can be done in various designs though today we are only focusing on 3 types below. In some cases your house plan architect may have indicated the type of pavement to be installed on your yard, and provided a bill of quantities for it, you can also use it to your advantage.
Types of Driveways
Depending on the kind of feel you would want on your property, we have:
Brick driveway
Pavers driveway
Concrete driveway
Comparison
In order to help you decide we are going to focus on only these 3
Interlocking pavers driveway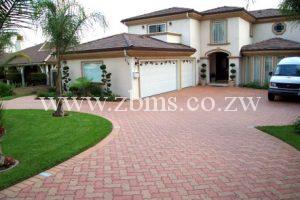 They are easy to lay, they fit each other easily
Paintable to any color of choice
Strong due to high cement content
Can be re-used
Long lasting
Interlocking pavers bricks start from $208 only per 1000
Bricks driveway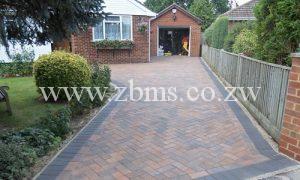 Bricks are strong and can be recycled
No need for painting from time to time
They stay intact for as long as you want them on your site
No form of maintenance is necessary
After all the driveway bricks prices are very low when compared to interlocks.
Concrete Driveway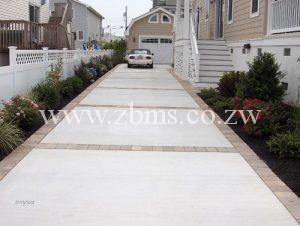 First of all, concrete driveways do not require ground leveling process
They can be designed in writings and shapes
Can be installed as precast slabs
Depending on ratios used when mixing concrete, they can last for years
All things considered, concrete driveways are cheap to construct and do not need any maintenance
Other essential materials needed when constructing driveways include quarry dust, weed killer, washed riversand, polythene plastic, pitsand and cement. Unless if you prefer a gravel surfaced driveway you will not necessarily need a lot of materials
Labor charges
Our labor charges are super low. Labor services start from only $3 per square meter hence we are definitely the cheapest Zimbabwe wide. Get great work done for less! and of course our charges are negotiable depending on project size.
Reach
Though we are based in harare, our services are available for everyone within Zimbabwean borders. Note that when we are doing jobs outside harare, we do not charge extra fees. We can go as far as Mutare, Masvingo, Kariba, Bulawayo as well as Victoria falls etc.
Get in touch
Due to the confidence we have in our selves and our expertise, we are open to show you our previous works. In order to get a quotation, you can;
call us or whatsapp on
+263778767374  and +263716782260
email
Transform your home with a beautiful driveway