RS
As the name states, riversand is usually found in river banks and beds. One of the most relied on type of sand also a multi purpose in the construction sector. In Zimbabwe its available locally in almost all regions, wherever your are building.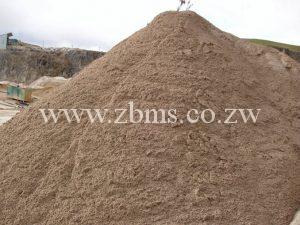 Making
Riversand generates naturally, and its slightly rough with very tiny sharp cornered particles. At times, according to sand processing companies, its extracted with mixtures of pit sand then washed to requirement. Cracked stones/rocks and other natural soil particles make up river sand. Unlike pitsand in most cases where you need to dig a bit down into the ground, since the ground level sand will be mixed with lots of dirt and grass. River sand is found readily available at ground level on river banks and usually clean from dirt and grass. The only disadvantage that compels contractors and builders to choose alternatives is because of the limited sources of collection. Due to limited access to it some trade mens resort to quarry dust as an alternative. However with us, its always available for you our clients.
Riversand Uses
Its one  of the finest aggregates used for concrete mixtures, screed and floors.
Concreting
Flooring
Screed etc
Note that silt and clay in river sand reduces the concrete strength and ends up bulking when subjected to moisture.
We as Zimbabwe Building Materials Suppliers make sure that we deliver the best quality products at all times.
Disadvantages
Sand mining has adverse disadvantages on environment.
Advantages
It is cheaper than its alternative quarry dust.
Natural materials are generally durable than machine processed.
It works on all construction phases, from brick work to concrete and flooring mixtures.
In most cases delivery takes only 2 hours or less to reach your site after sale.
Combination materials
Flooring –  Cement and water. However instead of this ordinary river sand you need washed riversand for floors.
Concrete – 3/4 stones and cement
Riversand Prices
Our prices include transportation, hence no worry of extra transportation costs.
A single cubic costs $17 with delivery
2 cubics costs $34
3 = $51
4 = $68
Load of 5 cubic costs $85 with free delivery
6 = $102
7 = $119
8 = $136
9 cubics = $153
Load of 10 cubic costs $170 with free delivery
15 cubic load costs $255 with free delivery
Load of 20 cubics costs $340 with delivery
Our prices are negotiable depending on quantity ordered.
Free transportation apply in Harare, Ruwa, Chitungwiza and closeby towns
Order River sand
Our delivery services are available 7 days of the week.
Call/Whatsapp: +263778767374 or +263716782260
Email: sales@zbms.co.zw
Visit our product catalogue page to view more materials