SND
Sand generates naturally from stones, rocks and other minerals. It generates in different sizes and different colors which then determines the terms used on naming it. In the Zimbabwe construction industry the most common types of sands are pitsand and riversand.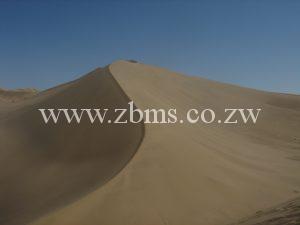 Generally sand is one of the most major material in the construction sector of Zimbabwe in combination with cement. Pitsand is used on brickwork and plastering whereas riversand is used for flooring and concreting.
Sands serve a great purpose on all masonry works as without it nothing will stand as it should.
On brick works Pitsand mixture with cement help to keep the bricks in position and it works like glue when dried between bricks.
When concreting Riversand mixture with cement follows any shape and dry up as an immovable solid bond. Riversand is also used on the footing concreting and slab concreting.
In ancient times it was used to manufacture bricks like today cement common bricks and cement blocks. Most noteworthy they used it as a bond between bricks and they never knew cement.
Probably the majority of land is dominated by different types of sands. Due to different colors and types, each type of sand is important in its own way.