In Zimbabwe cement is one of the most essential building material in the modern day era. Looking at all the structural construction stages, there is absolutely no stage where it wont be in use, its a super binding agent. If not one of the building products that takes up a lot of money when building houses, it is probably the second. So in a bid to make sure ZBMS your one stop shop has all you need, we also have cement for sale.  We have a variety of cement types from different reputable manufacturers including Lafarge (former Circle) and PPC companies. Grades of available products include 22.5, 32.5 and 42,5. Instant delivery services are available for Harare, Ruwa and Chitungwiza residents including other towns surrounding.
Available Types in Zimbabwe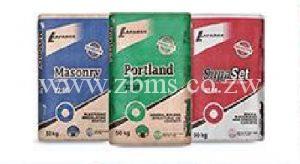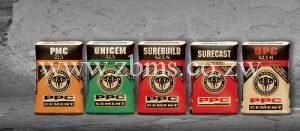 Masonry (Lafarge) and Porthold Masonry (PPC) 
These two products have inarguably same performance stats according to our experience with them. Both of them have the same strength 22.5R. The gauges and mixing ratios are comparatively similar. These are the cheapest types and not only for use in mortar but also concrete depending on area.
Portland ( Lafarge PC15) and UNICEM (PPC)
Again Portland PC15 and UNICEM also have identical qualities. Obviuosly making choices for use is dependent on what brand you favor. Moreover both are 32.5R standards, good options for concrete mixtures and mortar.
Supaset and Surebuild 
Lastly among all the available binding materials, these are the best in terms of strength. Supaset and Surebuild are the strongest types of cement from the two giant manufactures. The reason why we favor them is that you use less bass though expensive than the rest. And of course there is no part of construction where you cant use the two. Whether for mortar, floors and concrete, you are guaranteed positive results. Additionally in terms of strength, they are at 42.5R.
Prices
You can visit our shop to see current rates.
Main uses
Even though cement works as a bond, people use it for different purposes. We have listed some of the things you can do with it.
Transportation
Transportation rates for cement are based on your location and it varies from town to town.
Call us for free quotation using the numbers provided on top of this page or us the below information.
Contact details:
+263778767374
+263716782260
+2634773360
Also see: