Today as Zimbabwe Building Materials Suppliers based in Harare Zimbabwe, we are recognized for having a variety of bricks. Our brick products range from red solid common, semi common, load bearing, engineering, clinker and to first class joburg face bricks.
For more than a century people have used bricks to build various structures . In fact almost every modern structure standing in Zimbabwe has got bricks on its walls and foundations.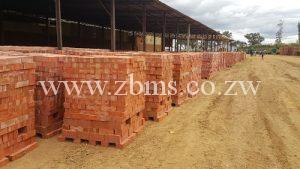 Selection of Bricks in harare Zimbabwe
Machine compressed standard common bricks
Red machine compressed standard common bricks are available at low prices and also plaster solid clay bricks at $100 per 1000, being the cheapest commons Zimbabwe wide. Among their other advantages, the quality beats the purpose of needing to plaster if used properly.
Hand pressed semi common
Hand pressed semi common bricks are also available at an unbeatable price of $50 per 1000 bricks. These bricks are more like solid commons and you can use them on durawalls and high density houses in Harare Zimbabwe after confirmations from local authorities. Most note worthy these are not farm bricks, they are superior.
Face bricks
We have red rustic and wire cut or brush, blue black, dark, plum, botswana and joburg face bricks from $260 per 1000 bricks. Like all other bricks, we have them available for collection instantly. In the event that you order during morning time, you can expect delivery with few hours provided that you are in harare. Mostly used on house fronts as highlighted on building plans.
Pavers bricks
Different types of interlocking pavers available from $208 per 1000, not only on one color but also on red and black. We offer a variety including 60mm and 80mm, found in rectangular and hexagon shapes.
Usually when ordering pavers bricks, make sure you are ordering the right kind of brick required on your driveway project.
Despite being based in harare, our bricks are available for everyone in Zimbabwe.
In the hope that our prices satisfy you, you may navigate to our products catalogue page to view other essential building materials available for sale.
Phone numbers
Email address
Our phones are open from morning to evening daily and if you need a quotation, we can prepare and respond without delay. During weekends, instead of emailing for instant response, you may reach us on whatsapp using the same numbers except for the land line.