Bricks Selling company in Harare Zimbabwe
Zimbabwe Building Materials Suppliers is significantly one of the most reputed brick selling companies based in Harare. With ZBMS you are guaranteed to get the best bricks not only great in quality but also in durability. Our products are widely used nationwide due to popularity and strength. Different from various distributors we supply almost all types of bricks available in Zimbabwe at the lowest prices making us your number one brick supplying company in Harare. We constantly maintain our status to be the cheapest brick supplier nation wide.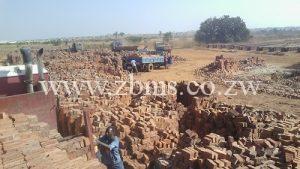 Solid Common bricks
Solid common bricks are available from us at less than the market price. For our current common bricks prices visit our products catalogue
Our solid common bricks are machine compressed and S.A.Z approved, in fact you can use them basically on any sort of structure. Know more about when and where to use solid common bricks in Zimbabwe.
Cement Common bricks
Our cement common bricks are machine pressed and S.A.Z approved. Our current prices for cement common bricks are available from our products catalogue.
Cement commons are of great use when building in wet areas, they do not easily break or crack.
Face bricks
Face bricks are among the most beautiful bricks and they are mainly used for styling. Most people use them for house front designs.
Face bricks prices are available from our building materials prices page
Load bearing bricks
For commercial projects and multi storey stuctures we have load bearing bricks. They are strong and they can be used on any sort of structure. Ensure enough cement and brickforce is used on your construction projects. Any structure lacking enough cement and brick force is determined to fall at any time. visit building materials prices page
Klinker bricks
Made to last forever clinker bricks are as strong as rocks. They are burnt excessively at times they loose shape due to excessive burning they go through. Product prices are available from our building prices page.
ZBMS bricks supplying company
Because we want to stay your number one bricks supplies company, we make sure we deliver any type of bricks you need. If you do not find a specific type of bricks under products catalogue page, kindly write or call us. We specialize in sourcing the bricks from reputed manufacturers then we retail and distribute them nationwide. We are currently based in Harare and people living in surrounding cities including ruwa and chitungwiza can get their orders within 2 hours. Our deliveries are instant soon after payment is confirmed.
We are to serve everyone and to make sure bricks reach clients at the lowest rates. We are Zimbabwe's leading suppliers.
Get in touch today for a free quote!