Save money and time
It does not really matter whether building commercial or residential properties, you can save money and time at the same time cutting project costs. With Zimbabwe Building Materials Suppliers there is  no running from point A to B sourcing building supplies. We offer one stop shopping building supplies services.
Among our products we have common bricks, semi common bricks, cement common bricks, face bricks, pitsand, riversand, 3/4 stones, quarry dust, cement, brickforce, dpc, polythene plastic, gravel etc. Thus when building with us we make it easy for you to access building materials with no sweat. Roofing timber  and sheets also available together with tiles, asbestos and chromadek ibr sheets. Simply bring your house plan.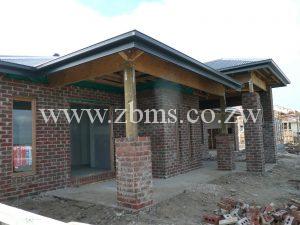 How ZBMS helps you save money and time factors
All essential building supplies are available from one supplier.
We also offer bricks and stones transportation services on separate charges, no need to source transporters.
Aggregates are delivered free of charge, that includes, pitsand, riversand and gravel. That also help you save big from having to pay for their transportation.
Polythene plastic, termite poison and other minor accessories are also delivered for free, that saves you big.
Time is precious, once by our work place with your plan, we take less than 5 minutes to prepare a quotation for all the materials needed on your construction project.
We always make sure our prices stay the cheapest on all building materials.
Bill of quantities cost only $30 per phase, which is cheap compared to the standard prices which range from $80 to $100.
Deliveries are escorted, there is no need to worry about shortages and securities.
Pitsand, riversand and gravel also get delivered freely anywhere you need them.
Bricks and stones transportation costs are negotiable to meet your budget and you are guaranteed quality service
Save big with our unique services
Great convenience is what we offer. We do it different from old days where you needed to buy every material from different sources. You would spend about 3 days in the process of ordering building materials from one company to another. Now with Zimbabwe Building Materials Suppliers all that hassle is no more, you get it all in just 5 minutes and save time.
Soon after payment is confirmed building materials deliveries take only 2 hours to reach your project site.
We make it possible for you to build with what you have on budget!
Get in touch with us today, our quotations are completely free of charge